Experience makes the difference.
Building a new ship usually means a significant investment. The service life of most boats is correspondingly long. In the course of time, however, it can become apparent that a ship should fulfill other or completely different functions.
Instead of building a new one, in these cases it can be more sensible and cheaper to partially or completely convert the ship. This demanding task requires not only the right technical equipment, but above all the necessary know-how. On the basis of their many years of experience, the experts at SET take care of the fast and cost-effective implementation with precision and absolute reliability.
Our references:
Research Ship "Ludwig Prandl"
The ship, named after the German Fluid Mechanics Engineer "Ludwig Prandtl" (1875-1953), first entered service in 1983. It is a shallow draft research vessel operating in the North Sea, Baltic Sea and the tidal areas of the big north German rivers.
The refurbishment in the SET shipyard in Tangermünde on the Elbe started in October 2001. It was carried out according to their regulations and supervised by Germanischer Lloyd and the See-Berufsgenossenschaft.
Technical details before the conversion:
Length OA: 23m
Beam: 6.35m
Depth at sides: 2m / 3.1m
Technical details after the conversion:
Length OA: 32.5m
Beam: 7.5m
Depth at sides: 2m / 3.1m
Drive: 2 x 375kW
Ice-Breaker "Wolf"
The "Wolf" is part of the ice-breaker fleet of the WSA Lauenburg and after a successful complete refurbishment is once again operating reliably on the Elbe.
The refit involved replacing large parts of the hull, the main engine and reversing gear units, the diesel electric generators, the diesel motor pitching device incl. the cooling and pipe systems, the complete refurbishment of the interior fittings incl. the insulation, fittings and redesign of the wheelhouse, and the complete electronic equipment incl. wiring, switch panels and sub-distribution, as well as the control panel.
Technical details:
Length OA: 29.28m
Beam: 7.42m
Draught: 1.45m
Displacement: 160m3
Drive: 1 x 578kW, 1,200rpm Caterpillar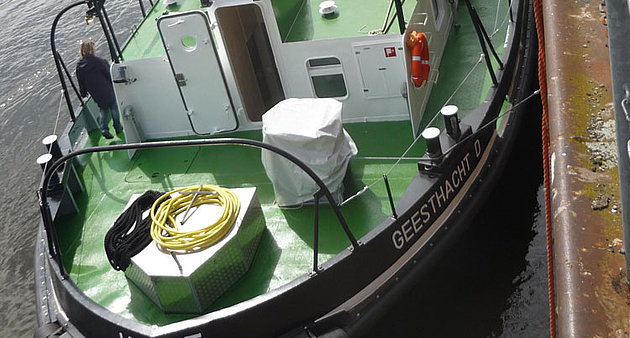 Water Injection Dredger "Jan"
SET won the order from the shipping company Meyer & van der Kamp GmbH & Co. KG in Varel in early 2011 to convert a long in the tooth mussel cutter into a modern water injection dredger.
The complete conversion was performed according to Germanischer Lloyd and BG-Verkehr regulations. It involved large parts of the hull, the complete superstructure incl. the wheelhouse, the complete water injection technology with its correspondingly complex hydraulic machinery, the mechanical engineering machinery, the interior fittings and the electronical and communications equipment.
The water injection dredger "Jan" has been operating under German flag in international coastal waters with RSA 20.
Technical details:
Length OA: 43.7m
Beam: 12.36m
Draught: 1.09m
Fixed point height: 6.2m
GRT: 281 NRT: 84